MiCloud Connect

Innovation is the key to continued growth in today's business environment and cloud-based communications ensure your business is on the leading edge.
Cloud communications is often synonymous with productivity, but what exactly can cloud do for overworked IT managers specifically?
Quite a bit, actually. Today work is an activity, not a location, and your businesses need the ability to enable their workforce with the tools and communication channels needed to ensure maximum productivity. And the right cloud solution will enable IT staff to manage the operations efficiently.
Mitel cloud addresses mobility, productivity, and collaboration issues businesses faces which are the most important features of a cloud solution, according to IT professionals.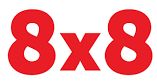 With 8X8 move complexity to the cloud with one intelligent engagement solution
With one application for all your communication and collaboration needs, 8×8 allows your employees to communicate easily and collaborate from anywhere on any device. With 8×8 employees' agility increases, as they move from IM to voice to Video to Web Conferencing with one click inside a single application. No on-premises equipment or maintenance required. That means fewer vendors, fewer bills and fewer apps to manage and provision. Whether you've got 10 employees or 10,000—one office or 1,000—8×8 unified cloud communications brings it all together.